Group Therapy: Mental Distress in a Digital Age
2015
FACT (Foundation for Art and Creative Technology), Liverpool, UK
Madlove (2015) the vacuum cleaner with Hannah Hull. Exhibited in Group Therapy curated by Vanessa Bartlett. Photo by Sara Hibbert.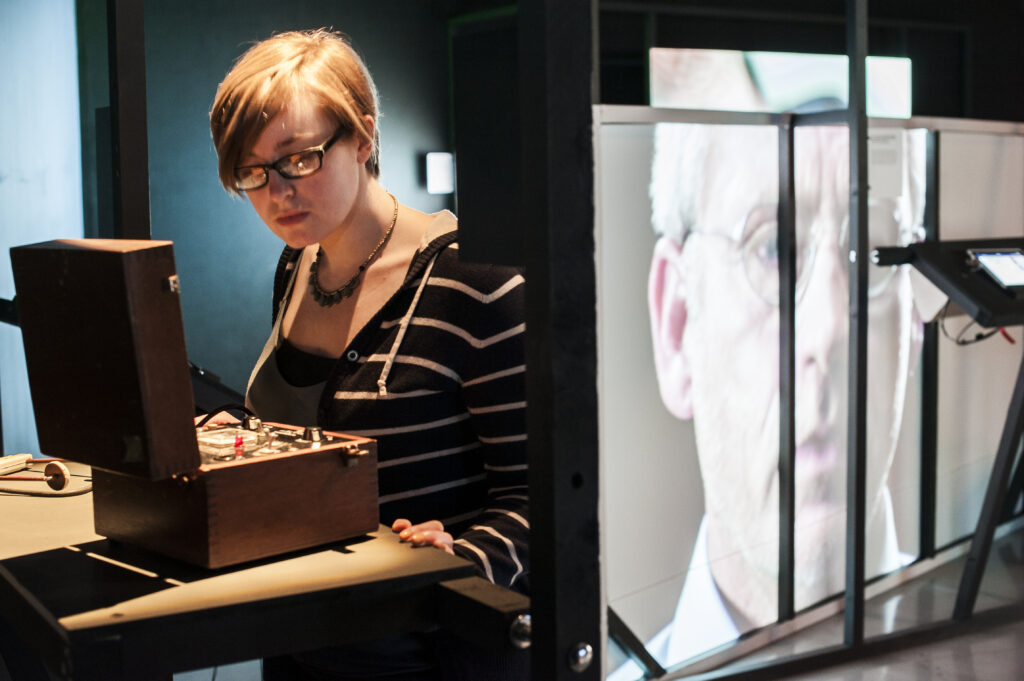 Group Therapy overview including The Financial Crisis (2009) by Superflex. Photo by Stephen King.
Exhibiting Artists:
Katriona Beales | Dora García | George Khut | Melanie Manchot | Lauren Moffatt | Jennifer Kanary Nikolov(a) | Kate Owens and Neeta Madahar | Members of Freehand (FACT's young people's programme) and Erica Scourti | Superflex | UBERMORGEN | the vacuum cleaner with Hannah Hull | Quintan Ana Wikswo
The Group Therapy exhibition offered artworks, design objects and research exploring connections between mental health and the values, political conditions, and technologies that structure our lives. Visitors were invited to consider their own relationship to technology and how constant digital stimulation and distraction can serve to numb or exacerbate day-to-day anxieties.
In a period of relative prosperity, instances of anxiety and depression are astonishingly high. For many, digital technologies are exacerbating this problem, altering our sense of identity and social relationships. Meanwhile, others suggest that technological innovation is a crucial tool for finding new ways to improve the lives of those who experience social isolation, illness and emotional distress.
FACT invited me to co-curate this exhibition based on a highly successful blog of the same name that I wrote between 2010-2012. I introduced FACT to my collaborator and friend James Leadbitter (aka the vacuum cleaner). Together we developed the major new commission Madlove—A Designer Asylum, funded by The Wellcome Trust and The British Psychological Society. This work was later developed as part of The Wellcome Trust's exhibition Bedlam: The Asylum and Beyond curated by Bárbara Rodríguez Muñoz and Mike Jay. We developed new commissions with UBERMORGEN, Katriona Beales and Erica Scourti.
The exhibition was visited by over 17,000 people and received coverage in international media outlets such as the BBC World Service and Creative Review. The edited volume Group Therapy: Mental Distress in a Digital Age [A User Guide] was published by Liverpool University Press to coincide with the exhibition.
"This exhibition is smart, sensitive and unafraid to show the world the darker aspects of living with mental health issues. Group Therapy works hard not just to show this to its audience, but to allow them to experience it."
– Disability Arts Online
Madlove 2015 the vacuum cleaner with Hannah Hull.

Labyrinth Pyschotica 2013 by Jennifer Kanary Niklov(a).

White Matter 2015 by Katriona Beales.

Madlove (2015) the vacuum cleaner with Hannah Hull.

Madlove (2015) the vacuum cleaner with Hannah Hull.

The Heart Library (2012) by George Khut.

Not Eye (2013) video still by Lauren Moffatt.

Psychosis Sensation (2015) by UBERMORGEN.

The Heart Library (2012) by George Khut.
Images from Group Therapy 2015. Photographs by Stephen King and Sara Hibbert.
Collaborators: Exhibition design by Benjamin Koslowski. Co-curation Mike Stubbs, Ana Botella and the team at FACT
Funders: The Wellcome Trust, The British Psychological Society, The Mondriaan Foundation, Prohelvetia (Swiss Arts Council) and Australia Council for the Arts
Link: to Group Therapy at FACT exhibition video
Link: to the FACT exhibition page
Related projects: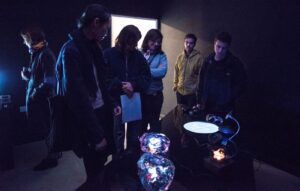 Are We All Addicts Now?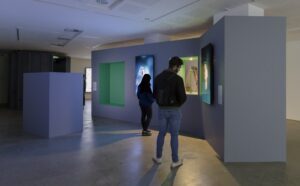 Group Therapy 2017
I live and work on Bidjigal and Gadigal land. I pay my respects to custodians past, present and emerging by revering the land and paying the rent. Always was, always will be.